This post and the images within it may contain affiliate links. If you purchase through them I may make a commission at no extra cost to you. Please know that I only recommend products/services that I have personally used and love.
One of my best selling clipart sets is my Beautiful Watercolor Clipart Set, and its probably because of its bright, pretty colors, and high quality textures. These are easy to add to invitations, cards, printable quotes, and more. So I thought I would start this blog with 4 free watercolor printables from this popular set!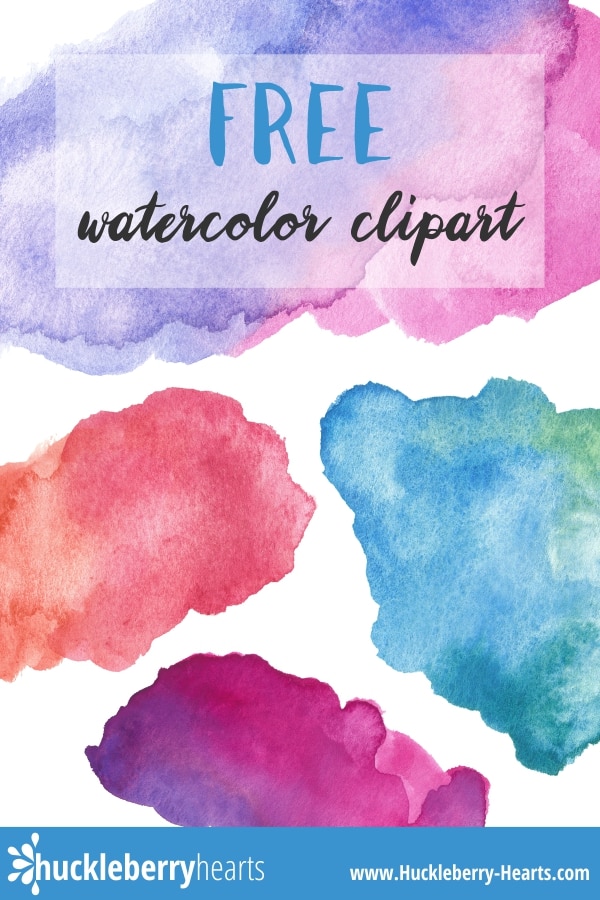 I just love watercolor painting so much, so making this set was a labor of love. Painting is my jam, I could paint everyday for the rest of my life and never get bored. Luckily for me, I CAN paint everyday and make a business out of it too! But pulling out all my watercolor paints, brushes, paper, and all the other things I use is time consuming. Its can also be messy, well it is when I paint! So I thought, maybe if I make some watercolor blobs that my customers can use easily, it will save them the time and mess, but still be beautiful and useful. And viola! Easy peasy watercolor paint without all the hassle.
So after I painted these, I scanned them into my computer at a high resolution so you can print these out large and still have high quality texture without any blurriness. This works great for the quote printables everyone likes, logos, or maybe even a custom pillow. I even had one customer that used these on some t-shirts she created online. I love how these look behind a pretty quote, they add a splash of color and look so fancy. Honestly, the possibilities for creativity are really endless here.
So no matter what you like to create, be sure to grab this freebie below, and if you love it you can purchase the full set here. I'd love to know how you used your watercolor clipart in the comments below!
Ready to get started with your free watercolor clipart? Just enter your email below to subscribe to my new Free Resource Library. Get instant access to all my free resources such as SVG files, coloring pages, free clipart, and more. I will be adding more items to this library and sending out occasional emails when new items are posted in the library. I'm super excited about this new 'VIP' club, so let's get started!