Mother's Day is such a wonderful holiday, it can be lots of fun making special gifts for all the moms and grandmas in our life to show them how much we care! Since my mom is an avid reader, I thought I would make an easy but beautiful watercolor bookmark for her to use.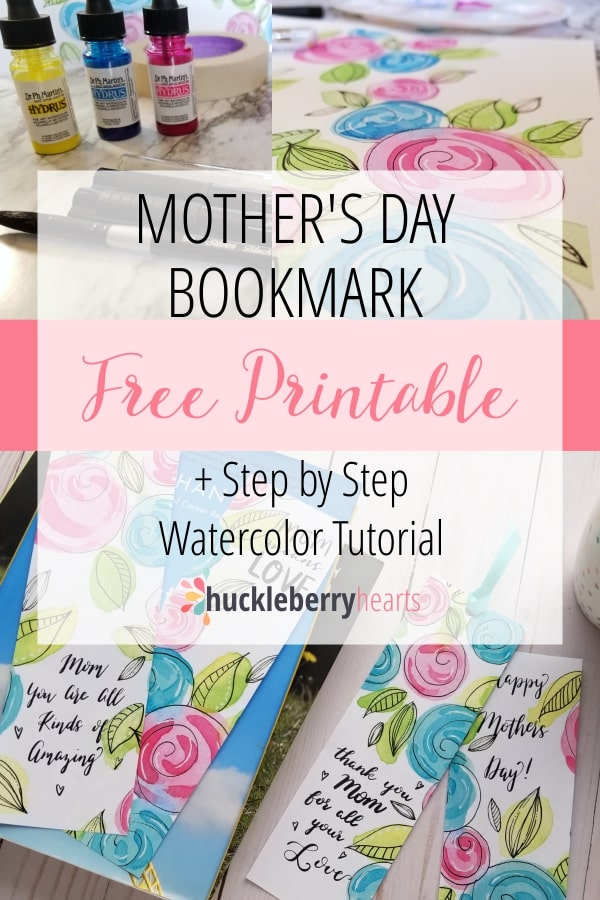 This project is great for a beginner watercolorist or an experienced pro. It only requires 3 colors, a round watercolor brush, and a few other items to make. And if watercolor painting isn't your thing, fear not, I've also included the bookmarks as a free printable below!
Here are all the supplies you will need to complete this project:
This post and the images within it may contain affiliate links. If you purchase through them I may make a commission at no extra cost to you. Please know that I only recommend products/services that I have personally used and love. We are a participant in the Amazon Services LLC Associates Program, an affiliate advertising program designed to provide a means for us to earn fees by linking to Amazon.com and affiliated sites.
Painter's tape (be sure to use painter's tape or it will rip the paper)
Watercolor Palette (You can use an old ceramic plate or bowl if you don't have one)
Silver Black Velvet Jumbo Round Brush (any round watercolor brush will work)
Clean Water in a bucket or jar to wash your brush
Ruler
Pencil
Paper hole punch (optional)
Tassel or ribbon (optional)
Start out by taping up the sides of your paper with some painter's tape. You don't need to do this, but just be aware if you don't tape the sides, your paper might curl up making it harder to work with. Then measure out your bookmarks, I made mine 8.5 x 2.75 inches each. You can make yours any size you wish.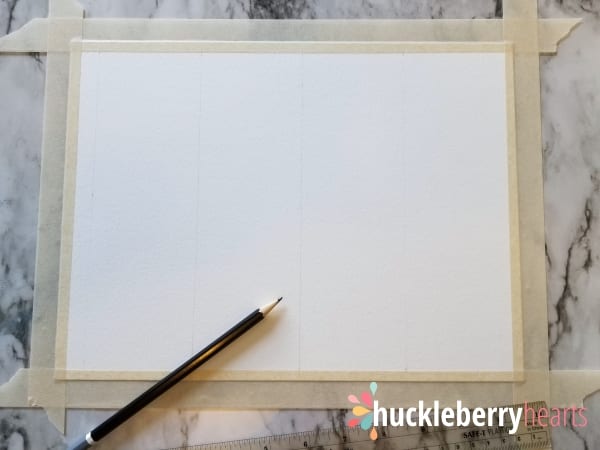 Now the fun part! Begin by painting your first set of 'flowers' by making pink circles. Make some small and some big, and don't try and make them perfectly round. Be sure to leave some white space in between the circles for leaves and writing.
Next, make your blue circles. If they touch and the color mixes a bit, that's okay! Pink and blue make a beautiful purple color. Be sure to have circles of different sizes to mix it up. And don't worry about your lines, paint right over them!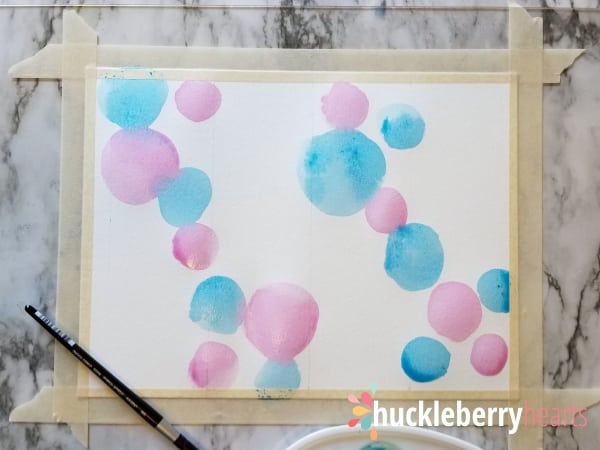 Now, you will need to mix a little blue and yellow on your palette to make the green leaves. You can experiment with the colors on a scrap piece of paper until you get the green you like. Then paint in some leaves next to your circle flowers.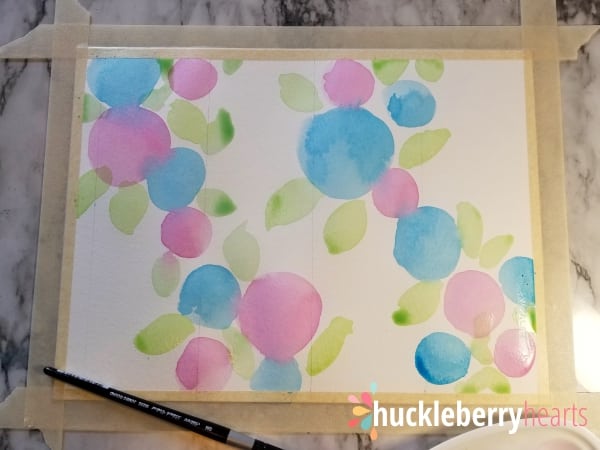 Once you are finished painting the leaves, let the painting dry completely. You can let it air dry or you a hair dryer on a low setting to help it along. Be sure that the paint is bone dry before moving on to the next step.
Now its doodle time! Use the Pitt Artist Pens to draw in your leaves and flowers. I like to draw using an off-set doodle, so I don't follow the edge of the paint. I think this gives the painting a fun whimsical feel. You can draw your flowers however you like, I chose to make my flowers 'roses' using a swirl pattern.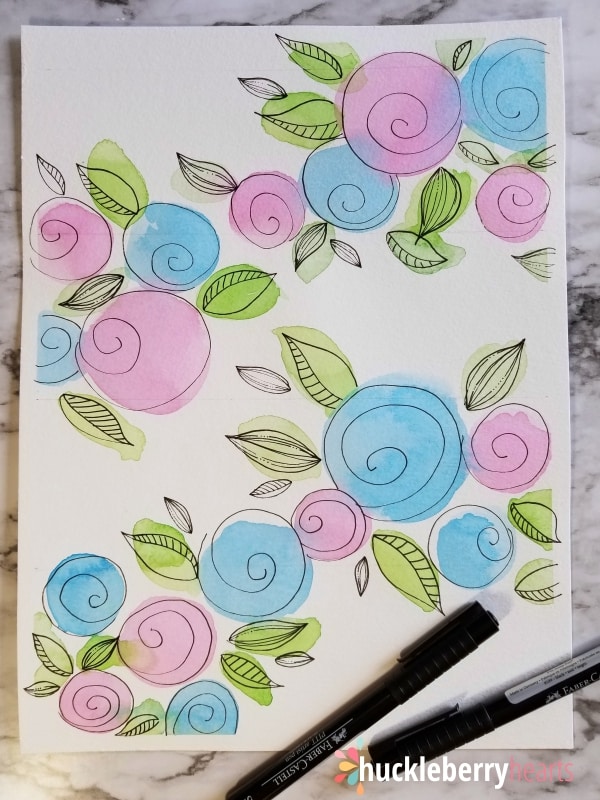 Once you finish the doodles, you may want to add more paint to give it some dimension. This is why I love using the Pitt Artist Pens because they are waterproof so I can paint right over top of my doodles without the ink smearing or mixing with my watercolors.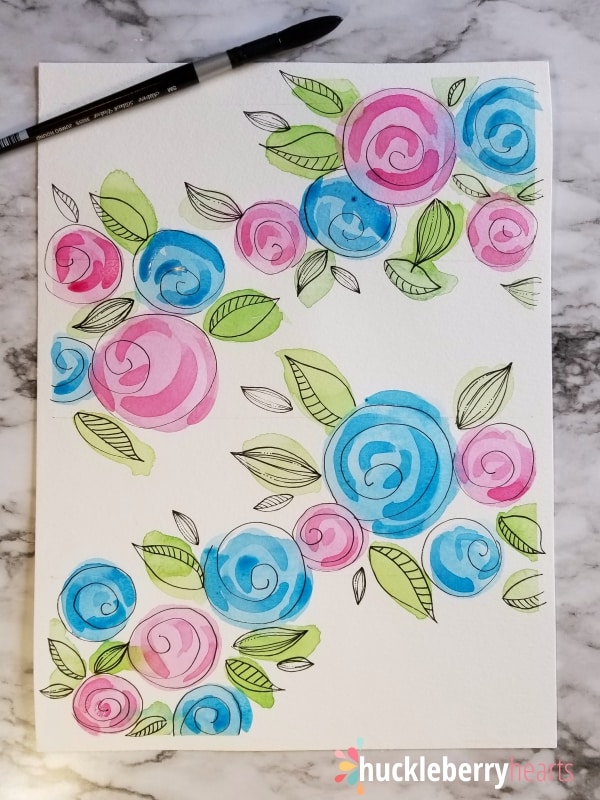 Feel free to use the Uni-ball pen to add pretty white highlights to your painting. I like to add white dots to my leaves and curved lines to my flowers.
Once you are finished with your painting, you might want to add some custom hand lettering to each bookmark. Since I was making this project into free printables, I decided to add some hand lettered wording from my ipad Procreate app instead. You can use a small paint brush, or you may use the Pitt Artist Pens. Either way, this is what gives the bookmarks a personal touch for mom.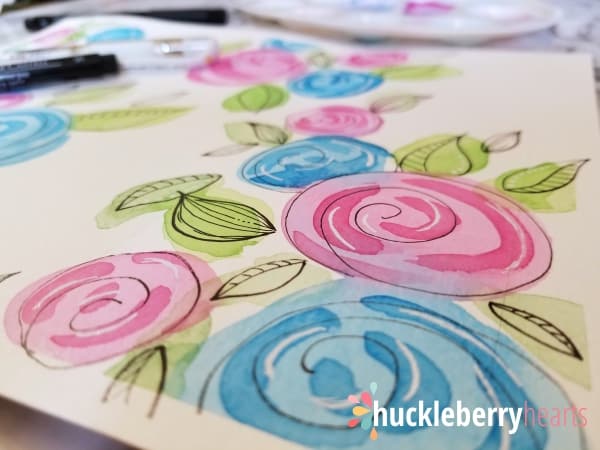 Once you are finished, you may use a paper punch to put a small hole at the top of the bookmark to add a tassel or ribbon if you like.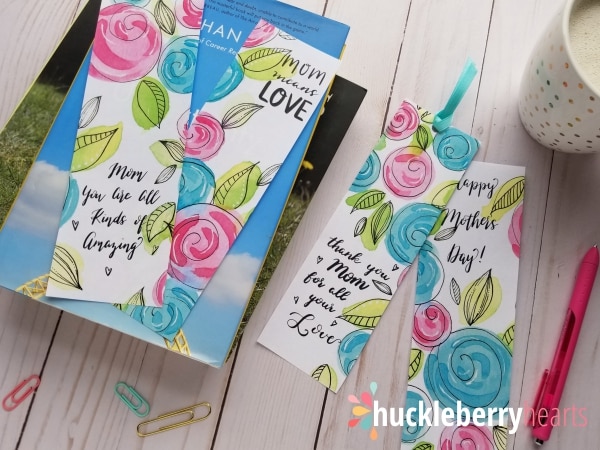 And for those of you who would like use the free printable of my project, you can download that below. Please note there are two printables, one with the quotes in the image above, and other one without the quotes so you can add your own! I suggest printing them out on cardstock if you can, or laminating the bookmarks once you cut them out to keep them protected.
Ready to get started with your free Mothers Day Bookmark printable? Just enter your email below to subscribe to my new Free Resource Library. Get instant access to all my free resources such as SVG files, coloring pages, free clipart, and more. I will be adding more items to this library and sending out occasional emails when new items are posted in the library. I'm super excited about this new 'VIP' club, so let's get started!