Today I want to share with you this super easy and adorable DIY Valentine's Day Garland. Its easy enough for kids to make, and pretty enough for the adults to display!
The candy hearts are from my Valentine Candy Hearts clipart. Or you can simply cut out your own paper hearts.
These Valentine's Day garlands are great because you make them as long or short as you want, you can stack multiple garlands together, and you can customize the colors too!
Related: Valentine's Day Hearts Free Coloring Page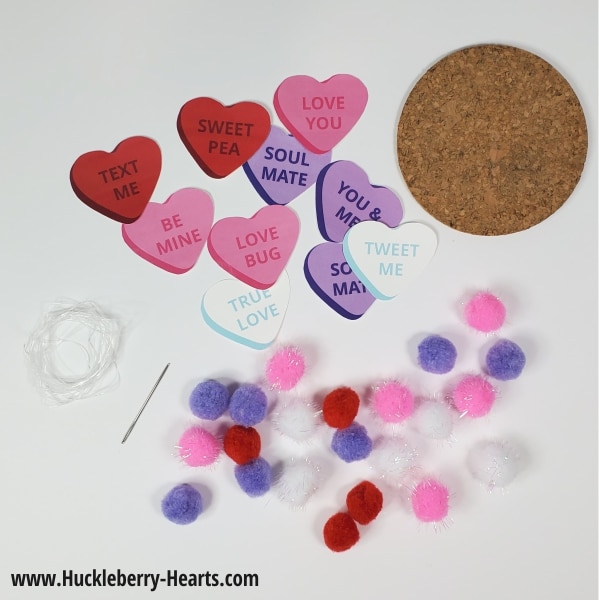 The supplies are easy to source, I picked up mine from Dollar General and my local craft store.
Easy DIY Valentines Day Garland
This post contains affiliate links. As an Amazon associate, I earn from qualifying purchases.
Ready to get started? Here are the supplies you will need:
First you want to get your candy hearts ready. I used clipart from my Candy Hearts clipart set. I printed them out on white cardstock, then cut them out using scissors. You could also cut out your own hearts if you wish.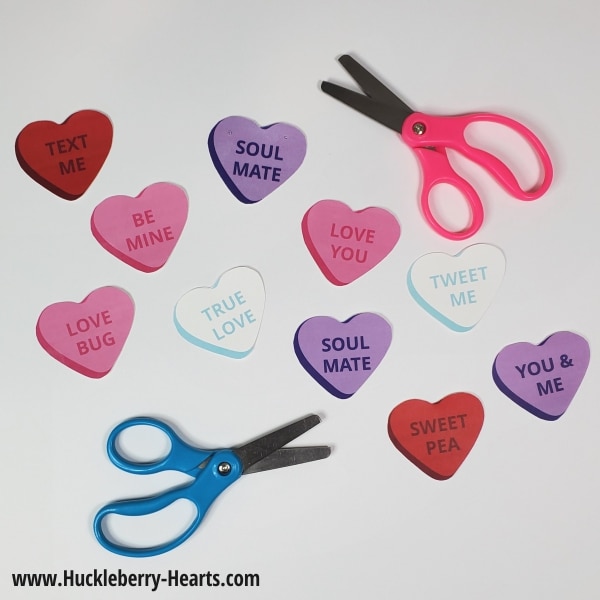 Next thread your cord into your needle. I used a dull end needle, and this works great if you have little ones making their own Valentine's Day garland.
You can put as many pom poms on as you like, I chose to put 2 in between each candy heart.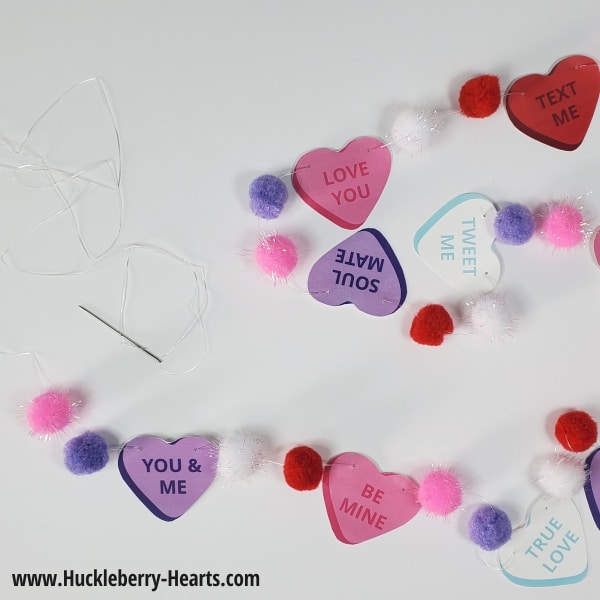 Next add the candy hearts. To put a small hole in each heart, I used a small cork coaster underneath the heart and poked the needle through the paper. If you prefer you could use a small hole punch instead. This may be easier for kids to thread.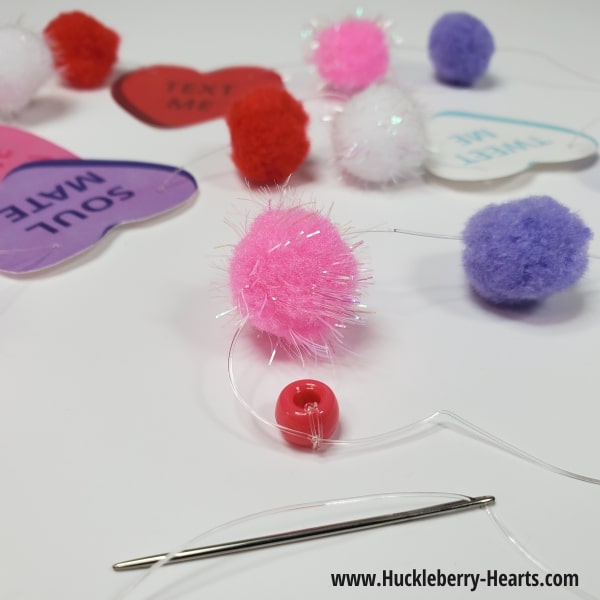 Then just continue to thread on the pom poms and hearts until you reach the end. Once finished, you can tie on a small bead at the end to keep the garland pieces from falling off the cord. And now you have a beautiful and festive DIY Valentine's Day garland to display.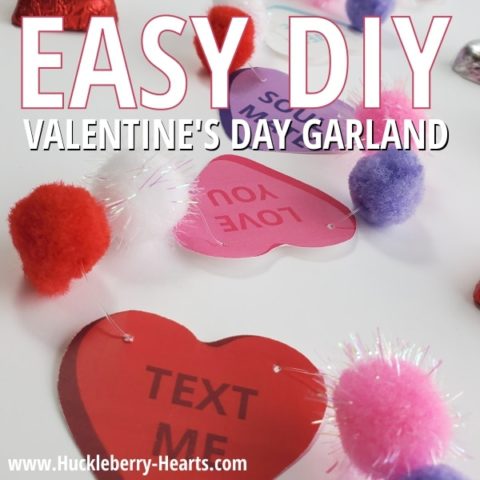 Make a DIY Valentine's Day Garland
Active Time: 30 minutes

Total Time: 30 minutes

Fun and easy DIY Valentine's Day garland using paper hearts and felt pom poms. A simple and festive winter craft project for kids.
Materials
White Cardstock
Assorted Felt Pom Poms
String
Small Plastic Beads (optional)
Tools
Printer
Scissors
Hole Punch
Needle
Instructions
Print out candy hearts onto cardstock
Cut out hearts using scissors
Thread pom poms onto string using needle
Using hole punch, put two small holes in the top of each candy heart
Thread candy heart onto string using needle
Repeat by adding more pom poms and candy hearts.
Once finished, use small bead to tie off end of string (optional).
Recommended Products
As an Amazon Associate and member of other affiliate programs, I earn from qualifying purchases.