Ah yes, the question I get all the time, Picmonkey vs Canva, which one is better? I remember when I first discovered Canva, I was actually looking for a Picmonkey alternative. And even though I'm a happy Photoshop user now, I still use both Picmonkey and Canva. Each have great features that work well for small business owners and bloggers who need to edit and create images.
Picmonkey vs Canva: Which One is Better?
So which one is better you ask? Well, it depends on what your needs are, and honestly, I think they are both great if used together as well. So let's break this down and see what each site offers.
Picmonkey Pros
Membership
Picmonkey does offer a free membership with many of the design elements as their paid memberships, but you cannot print, export, or save your designs. This is great if you want to kick the tires and see if you like it before you pay for a membership. They also offer two membership programs, Premium and Supremium. You can pay monthly or annually for the Premium, however the Supremium is billed annually and there is no monthly billing option.
Storage
Both Premium and Supremium offer Hub storage and the ability to organize your collections within the Hub. The Premium plan offers storage for up to 50 images, and the Supremium plan offers unlimited Hub storage. You can also re-edit images that are saved in the Hub. This is a great feature, especially when you realize you made a typo or you want to make quick changes. Plus, you can make a copy of your saved images in Hub, so it's a snap to create your own custom templates.
Filters
Picmonkey has tons of filters which they call Effects. Be careful, you can waste a lot of time trying all these out! Need to touch up a photo, no problem! Picmonkey offers tools like Blemish Fix, Airbrush, Teeth Whitening, Weight Loss, and more. Some of these are only available on the Supremium plan though.
Fonts
If you use the free version, you do have access to the fonts within Picmonkey, however, the paid versions offer the option to import your own fonts as well.
Shapes & Icons
Picmonkey also offers a big selection of shapes and icons which they call Overlays. These are organized in cute collections making it quick and easy to find what you need. Again, they offer quite a few for free, but the paid plans provide the bulk of the Overlays.
Textures & Borders
The online editor also offers textures, which just like Effects can really suck your time if you're not careful. There are just so many choices!
Need a border for your image? No problem, they have those too.
Picmonkey Templates
And finally, Picmonkey templates. This is actually where I start if I don't already have a saved template to use. What I like about Picmonkey templates is that they have both the blank ones and prefilled ones. Plus, there are pre-sized templates for social media images, Etsy banners and cover images, and various Pinterest pins.
Once you are ready to save your image, Picmonkey allows you to choose varying qualities of your images. And Picmonkey supports transparency as well.
Picmonkey Cons
They biggest downside to Picmonkey is that they don't offer any stock images. You will have to import your own.
No easy auto image resizing like Canva has. This must be done manually.
If you are using the free version, you can't edit images you have already saved. You will need to either re-create them or upgrade your plan and use their Hub.
They most annoying problem I find with Picmonkey is the clunky layer editing. Choosing layers or different elements within your design becomes difficult when you start to have a lot of layers that you are working on.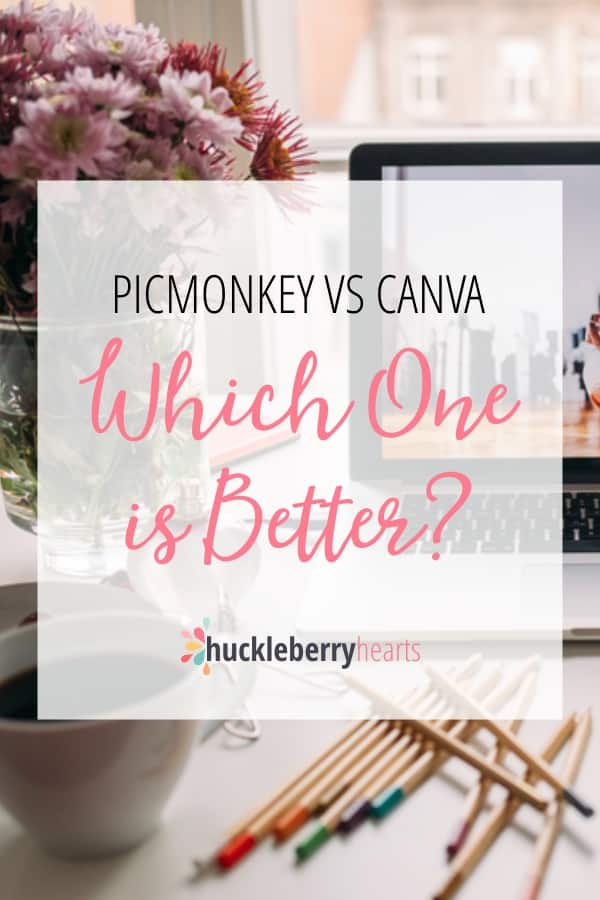 Canva Pros
Membership
Just like Picmonkey, Canva offers a free version and a paid version with more features. Their Canva for Work plan is available in both a monthly and yearly billing plan.
Storage
Canva offers storage for both their free plan and their paid plan. The free plan comes with 1GB of storage for both photos and your designs, plus two folders to help you organize them. The Canva for Work plan offers unlimited storage for both photos and your designs, plus unlimited folders for organizing all your stuff. You can give access to team members or collaborators as well, which is great if you have a Virtual Assistant or need to share a design with others.
Stock Images
One of the best features of Canva is access to tons of stock images for $1 each! We all know stock images can be pricey, so take advantage of that feature.
Canva Templates
Canva's templates are amazing, tons of premade designs available. Just switch out your own images and info for quick, beautiful designs.
Fonts
Like Picmonkey, Canva has tons of fonts to choose from. Plus, you can upload your own custom fonts as well.
Grids, Frames, Illustrations & Icons
You will find plenty of Grids and Frames to use in Canva as well. And just like Picmonkey, there are lots of shapes, lines, illustrations, and icons to choose from. Canva also has a chart feature, which is great for making custom infographics or presentation visuals.
Magical Resizing
Resizing images is crazy easy with Canva, however this feature is only available with the Canva for Work plan. You can resize to several sizes at once too! Hello timesaver!
PDFs and GIFs
You can also use Canva to create PDFs and GIFs. I've never used those features myself, but I know several people that have used them and were happy with the results.
Canva Cons
The biggest problem I have with Canva is that it costs more than Photoshop if you pay monthly!
Canva does not support transparency, so if you want a transparent background for your design, you are out of luck with Canva.
There is no control over the quality of the images once you save them. This can be a real problem for designs made for print.
Canva's shape selection compared to Picmonkey is terrible. That's why I only gave them 1 dot in the comparison chart.
Canva offers a large assortment of illustrations and icons to use, but they aren't organized in collections. This can make your task of finding the right element a time consuming task. You can search for items in the search bar, but for visual people like me, that doesn't work well.
So Which Program is Right for You?
With so much information, it can be hard to choose. Thankfully each offer a free version so you can test it out and see which you like best. And if you do decide to upgrade, there are affordable payment options. No need to download and install the software, just sign up and design away.