Are you ready to make the most adorable seashells picture frame ever? This project is a blast to make, and with a little help from an adult, the kids will love to make one too.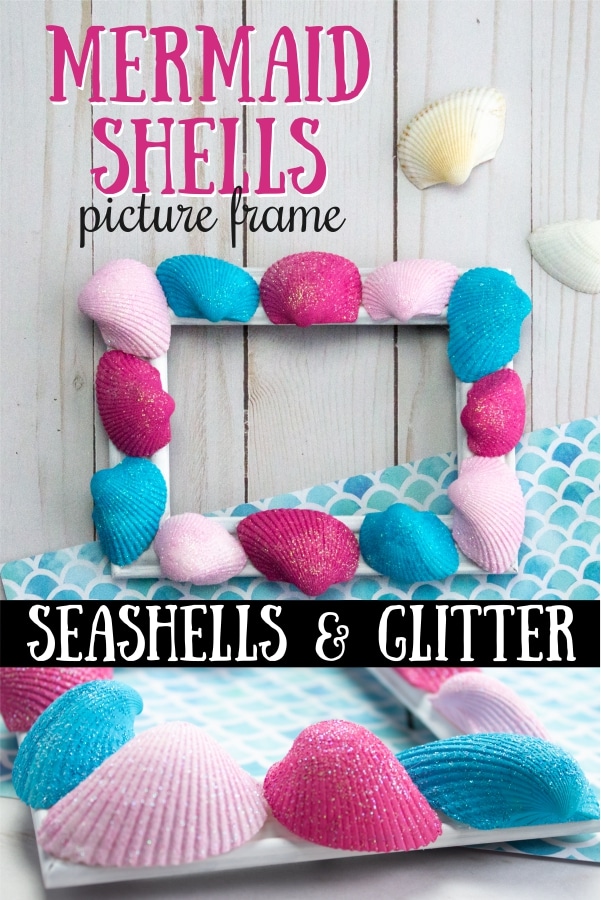 With beautifully painted seashells topped with sparkly glitter, these mermaid shell picture frames are a fun way to display your photos. In fact, you can make several different color combinations and have a whole collection of mermaid shell picture frames!
How to Make a Seashell Picture Frame
First let's gather some supplies:
This post contains affiliate links. As an Amazon associate, I earn from qualifying purchases.
Related: Paper Plate Heart Wreath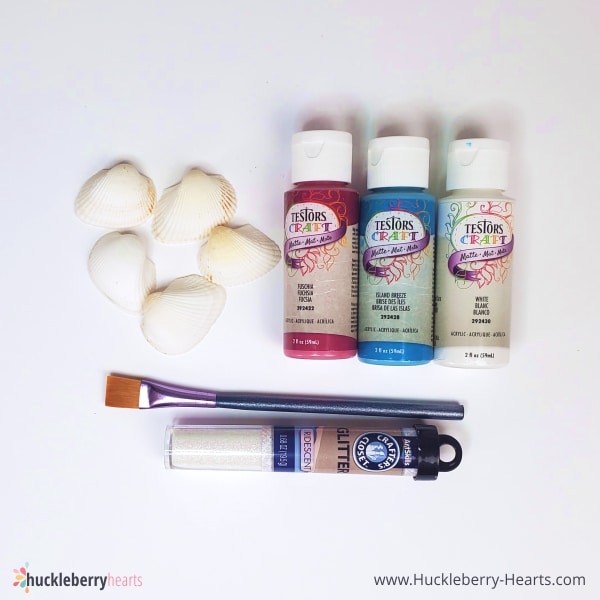 I purchased a bag of crafting shells at the craft store, but you can use any shells you have. Also, I opted for pink, light pink, and blue paint, but you can choose any color you like.
I went with iridescent glitter to really give it a 'mermaid' look. However, any color glitter will work.
The picture frame I used was a cheap dollar store frame, and unfortunately they did not have any white ones in stock. But, that is easy to fix with a little white paint. If you are able to find a white frame, you can skip the frame painting step.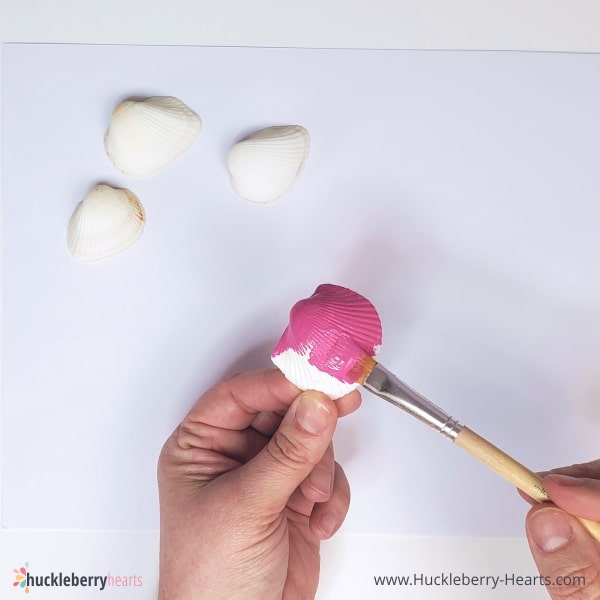 Step One – Begin by painting your shells. You only need to paint the top of the shells, not the inside of the shell as that part won't show on the finished frame.
Step Two – This part is important — sprinkle on your glitter while the shells are still wet. If your shells dry before you can put the glitter on, just add another coat of paint and then sprinkle it on before they dry again. You may need to paint your shells in batches.
Related: Paper Plate Penguin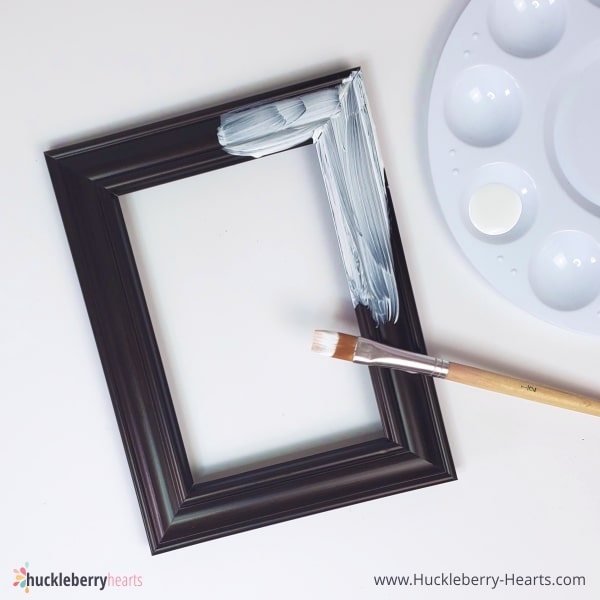 Step Three – While your shells are drying, you can now paint your picture frame. If you already have a white frame, you can skip this step. Add as many coats of paint as you need until your frame is well covered.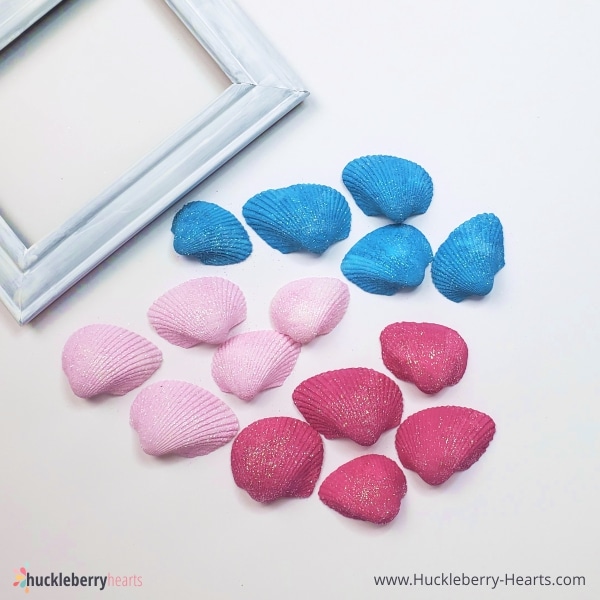 Step Four – Now that all your shells and frame are dry, lets place the shells onto the frame to get them in place before we glue them. Note that the shells may extend out past the frame, and that okay except for the bottom of your frame. You don't want them to stick out too far or you won't be able to stand the frame up properly.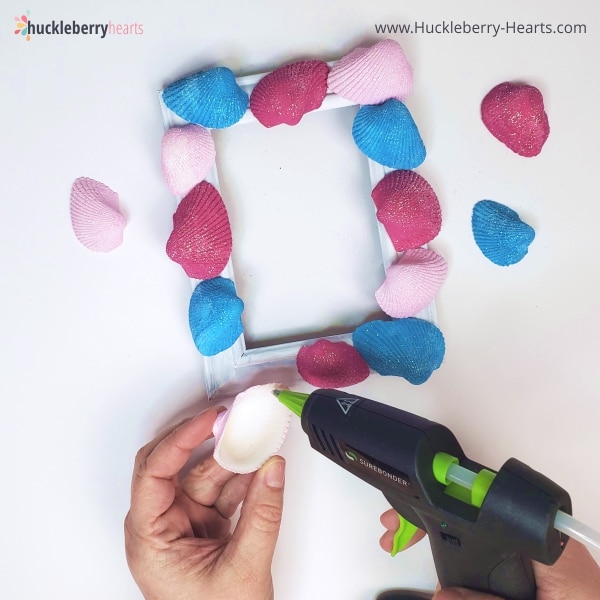 Step Five – Once your shells are all in place, hot glue each one in place.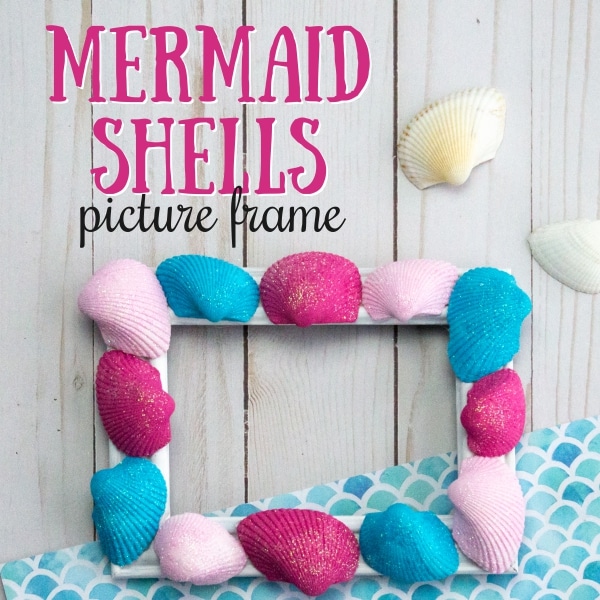 Now step back and admire your frame! Once the glue has dried you can put in your favorite photo and show everyone your handiwork!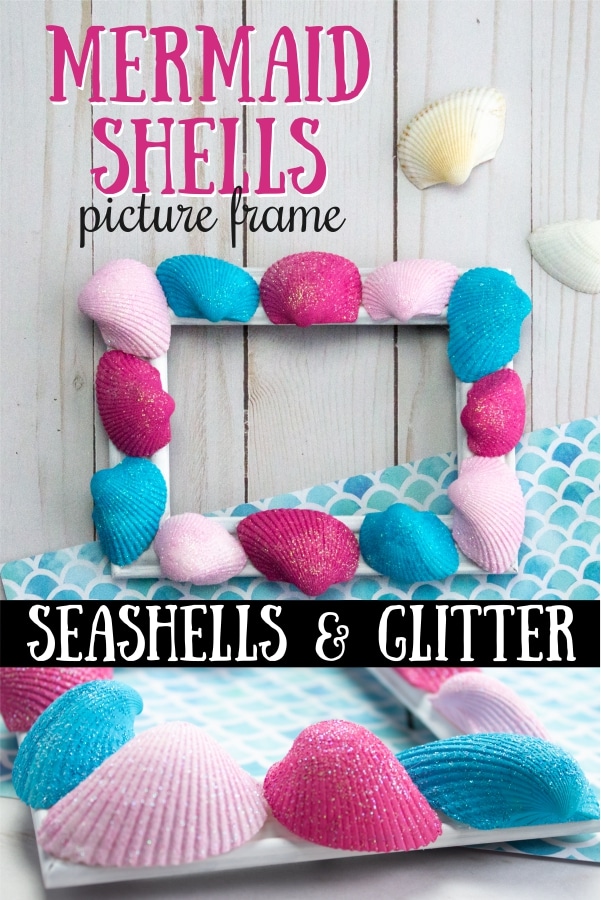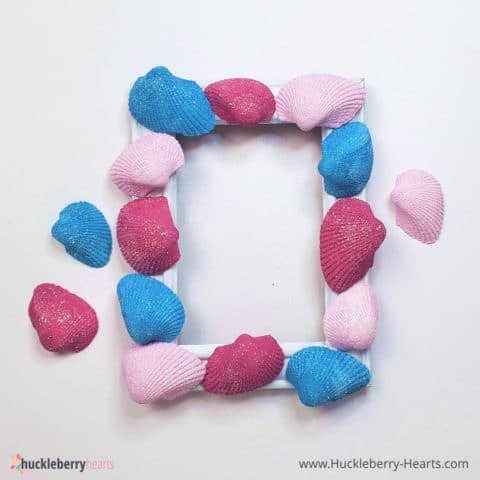 Mermaid Shell Picture Frame
Materials
Craft Shells (approx. 14-18 shells)
Acrylic Craft Paint (Pink, Light Pink, Teal, White)
Iridescent Glitter
4 x 6 inch Picture Frame
Tools
Paint Brush
Hot Glue Gun
Hot Glue Sticks
Instructions
Begin by painting your shells.
While shells are still wet, sprinkle on glitter, covering each shell. Then let them dry.
Paint picture frame white.
Once frame and shells are dry, lay shells on picture frame and position them until the frame is covered.
Using hot glue gun, glue shells onto frame.
Notes
You may need more or less shells depending on the size of your frame and shells. If you use a frame that is white, you can skip the frame painting step.