Are you looking for fall bucket list ideas packed with fun family activities that everyone can enjoy? Look no further. With 50 great ideas plus a sheet to fill in your own activities, you're sure to get all the fun ideas done this season.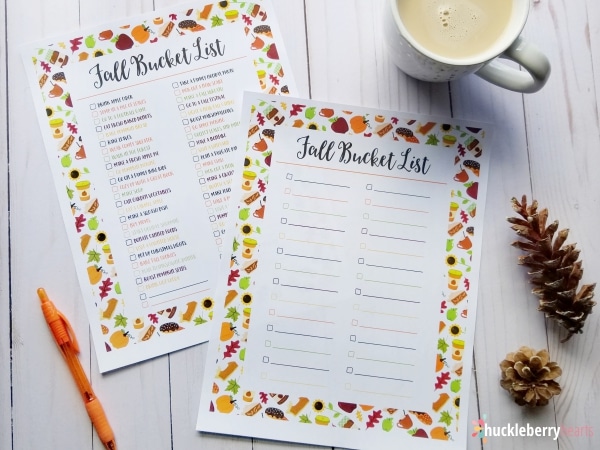 So what's included on this Fall Bucket List?
Lots of activities for both the adults and the kids, such as baking cookies, hayrides, and taking holiday photos of the family. There are even a few crafts included, like making a fall wreath and getting those Halloween costumes ready.
And since everyone has their own unique autumn traditions, I've included some blank spots for your own activities. Or print off the second sheet and fill it in with all your own fun family activities!
And in case you are interested in the artwork included on these sheets, I used images from my Autumn Apples and Pumpkin Spice Everything clipart sets.
Be sure to scroll down to the end of this post and subscribe to the Free Resource Library to get your free fall bucket lists.
Related: Welcome Autumn with these Free Fall SVG cut Files and Clipart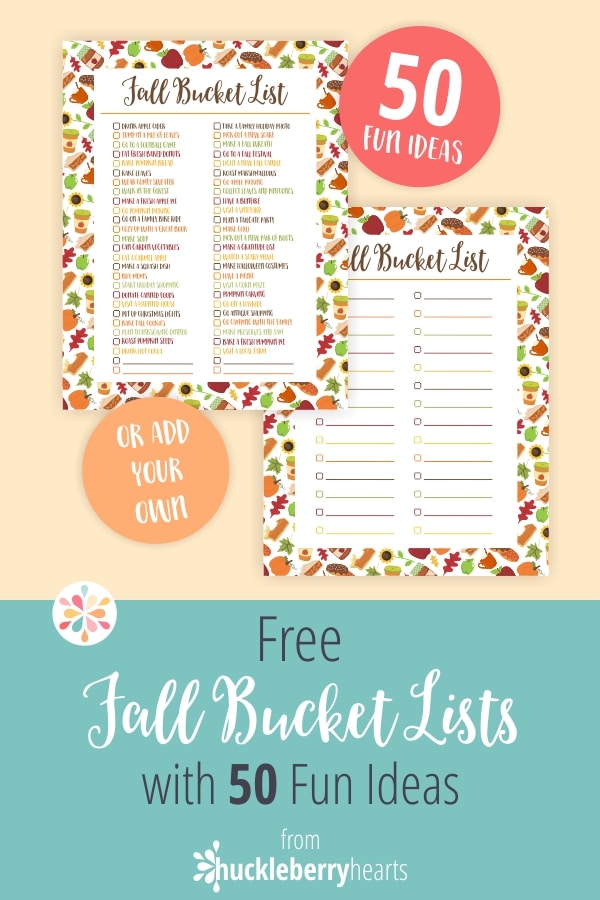 How to Get the Most Out of Your Fall Bucket List
There are some things you can do to make sure you tackle your bucket list, no matter what time of year it is.
First of all – post it prominently! We all say we are going to do some of the things on our bucket list, but do we really? Life is busy and chaotic, and it's easy to let those things slide that we said we were going to get done. Posting it where you can be reminded of your commitment will help you stay on track.
Better yet – post it online! Get your friends and family involved! Ask them to join you, it's the whole reason for a bucket list right? Doing things we love with our favorite people!
Accountability! Since you posted it on Facebook or Instagram, all your friends can keep you accountable. You are more likely to do what you set out to accomplish if you let people keep you accountable.
Practice makes perfect. The more you check off your list, the more you want to check off the rest of the list. Seeing it completed becomes your goal!

So, are you ready to get started checking off activities on your free fall bucket list? Just enter your email below to subscribe to the Free Resource Library. Then head over to your email to get your link and password. You'll get instant access to all my free resources such as SVG files, coloring pages, free clipart, and more.